Broadcast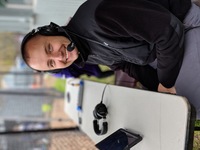 Collin Quinn
Color Commentator
Collin Quinn joins the Pittsfield Suns broadcast team for his second season after serving as a color commentator during the 2019 season. He was formally the voice of Worcester State University athletics from 2017-2019, where he attended college.

Quinn, a 2015 graduate of Westfield High School, has been involved in broadcasting and athletics since that same year, when he attended Worcester State University. At Worcester State he was able to complete a sports information internship with their athletic department, writing recap stories, feature stories, creating video content, and serving as the head play by play voice for the Lancers.

After graduating in 2019, Quinn took his talents to Keene State College in Keene, NH to take part as a Sports Information Assistant in the college's athletic department. There, he is in charge of all video creation for the college's social media and website, as well as taking care of in-game statistics, broadcast setup, and recap stories for select teams. His favorite sports teams include all the four major sports in Boston (Bruins, Red Sox, Celtics and Patriots) with the Pittsburgh Penguins also being added to that list.